Saturday, October 21st, 2006
---
2:03 am
I'm going to be in that Via Colori festival November 18 and 19th. You guys should come out and and see me if you want. Its going to be downtown somewhere, I'll have to let you guys know later.

Ummmmmm tomorrow's homecoming? Yeah. I was getting so annoyed by the clangor of the cowbells. Whoever requested "more cowbell" is a fucking idiot, since that so annoying when you hear it all day. It just makes me feel like I'm in a barn full of animals, which quite literally I am, since nobody really doesn't have any decent sense to cover themselves in the right type of garb and and AND the people there, aswell, talk like they came from Kentucky and Arkansas. I hate hicktowns. I really need to getaway.

It was a good day, I didn't have to goto the pep rally and got to work on art instead! yay! the only thing I missed was seeing the Martinettes doing their wave and Thompkins doing that funky groove dance. It seems like black people are the lucky ones. They naturally know how to sing, play the bass, and dance. What the fuck is up with that? Oh well.

I can't wait till Erin's Costume Party. I'm going to dress as Siouxsie. OMG I want to goto that huge thrift store near 'tonio's house. Savannah says they have a good selection there. Maybe I can find a funky, sparkly dress that is betfitting to Siouxsie in the video "Dazzle". She looks so glittery there, and it looks so good and 80's. Yesssssss.
Monday, October 2nd, 2006
---
9:07 pm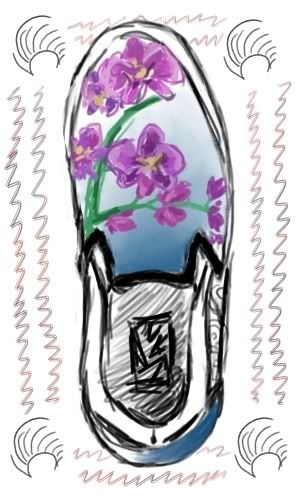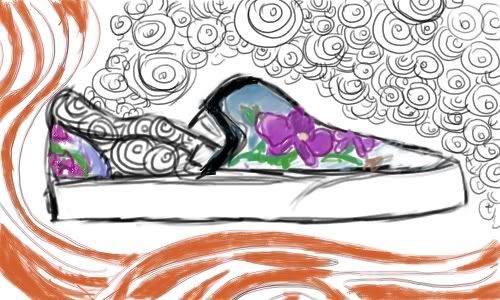 This is the design I'm planning to do on my shoes. Its just a rough sketch and hopefully the outcome will look much better. I'm thinking of changing the pattern on the side to the one on the top's picture view, that semi circle twirling thing. I dunno, I'm going to change my concentration to flowers so I can just pass the shoes off as an art project. Then I'd be getting a lot accomplished: I'd have new shoes, a good design on it, and I'm getting a grade on it. Wooooooh.

I wish someone would've told me that they were going to Xiu Xiu. Then I would've gone. Jeezus, that's the second time that's happened.

Anyways! I went to Allison's house with the 'tonio and we looked at Vogue and played Pool. Pool is pretty much wierd. Hitting balls with sticks? Absurd! I think man came up with this concept since he couldn't perform this task with his own utencils, so he fashioned a long rod out of a tree branch and found round rocks to hit around to compensate for his own loss. Whateves. Pool can be pretty perverted. That and those cute squishy rubber fuzz balls Allison has. Those things are the best thing ever. Like after I got home, I pretended to have a rubber fuzz ball in each of my hand and started to slosh them around in my hand so they would make that hollow noise, but then I realized that I was only sloshing around air so I stopped and became lonely. For my birthday, I want the hugest one they have on the market, wait, make that two, so none of my hands will feel left out. YAAAAAAAAY then I'll jiggle them around 4 lyphe. I think I should stop since I have a crapload of reading to do for Luther's class. Meeh.
Friday, September 29th, 2006
---
11:14 pm
- At the chip factory...
I'm at my mom's work right now. I know, so late. Well I got my chapter homework done and its been hardcore. I just was eating a bag of chips and watching sex and the city. Well not really watching it, it was just on in the breakroom. There are no good chips on the free-for-all rack! GRRRRR

I will never work here. But I did pick all of the staples off of my mom's cubicle carpet and wrote a nasty letter to all of the people that use to cube to keep it tidy and that I'm not their maid. I was just helping my mom out, Don't ever want to be in her position, though.
Monday, September 11th, 2006
---
9:26 pm
First journal entry in a while...

My mom and James are thinking of shipping me off to New York City to go live for a year until I'm qualified for In-State Tuition, but with the schools I want to goto that won't really matter since it's private. Both Pratt and Parsons are private, sadly. Oh vell. Well I don't really want to go anyways because I want to graduate with my friends and I'd only go if they put me in some magnet school for visual and performaning arts. So ha ha ha.

But it would be fun. I wouldn't want to goto some PS 46073489560734869 some number i can't remember. The public schools in New York suck anyways. But I wouldn't know if its better than Mayde Creek. haha.

current mood:
mellow
Sunday, August 13th, 2006
---
11:52 pm
My Schedule:

1st. Chem with Mrs. Nayef
2nd. German with the Frau and Becca.
3rd. Orch with the orch dorchs(intentional sp) and Tuh-juh.
4th. AP Studio Art with Bowen and Savannah...meh.
Lunch with the SARAAAAHHHHHHHHHHHH, Erin, Evan, and Kacey. EAT IT.
5th. AP English 3 with the coke addict Luther and annoying little Kristina.
6th. AP U.S. History with Rosas and the annoying preps. Meh.
7th. Algebra 2 with Schlutz and the Olivarez bitchez. Haha.

ALLISON + 'TONIO!! You have to come to B lunch! It'll be the perfect gathering with the most perfect people! See you tomorrow? Which is in like 5 hours and some odd minutes. Hokay. Night.

current mood:
tired
Wednesday, August 9th, 2006
---
10:43 pm
Okay, if you see a little girl in this outfit tomorrow...




Shoes:




...it's me. Yeah, the heels look a bit chunky but they're unnoticeable when up standing.
See you the first day of school!
Tuesday, August 8th, 2006
---
11:36 pm
Someone tell me. Seriously. Do I really just get in the way of everything?

current mood:
disappointed
10:26 pm
I went to that meet the teacher thing at around 4. So now the teacher knows about Eva's situation and I'm still not entirely clear on what they're going to do with her. Oh well. And then I ran into Ms. Doll, which is now an art teacher. She's Eric Doll's mom and I knew him in like 4th grade, but we talked. She offered me to come to the elementary after school to help with the kids and I can get service hours for it. So that'd be a big plus for me with my shit and getting a scholarship, telling them I helped out in an elementary art class. Not that I really want to be a teacher, but its art. So I guess I'll just ride my bike after school to there and help out for an hour then ride back home. I'm not too sure on what days I'll do it, but I'll think of a way. I think we need like 16 service hours to get recognized for something but I don't know.

My dad yelled at me earlier for putting these chicken patties in the microwave for too long. They came out all hard and uneatable, so I got yelled at for wasting food. Hey,I was just following the directions it said on the package. Put it in the microwave for 4-6 minutes. But that was for 6 patties. Oh well. I guess it matters more to my dad than to me since he only makes 11 dollars an hour so that was hard earned food wasted. I don't know, it upset me thought. I put on quite a scene since he was yelling at me and shit. It sometimes reminds me of how I am really afraid of my dad and I'm just hiding it. Uggggh, I have a horrible headache now.

current mood:
okay
Monday, August 7th, 2006
---
1:36 pm
Well the dress my mom and I were working on is put together, it just needs some minor adjustments in the bust area. Then when that is done I'm going to put some button and frills so I can take away the plainness away. Yeah. Then we're going to wrk on the fullness of the skirt part by making a peticoat.

But in the meanwhile, here is a picture of a cosmetic bag I constructed from the sowing machine last night. Its the same material as my dress. I hand sowed the frills and all it needs to be a real bag then is the inner lining and a zipper!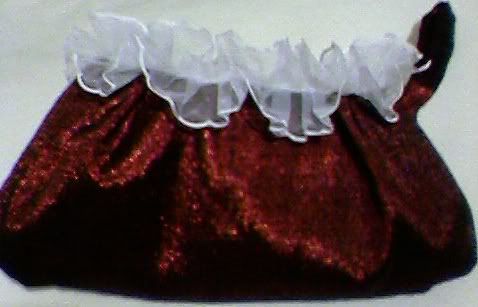 1:24 pm
First things first. I went shopping on Saturday...tax free day. Hahah, well I still found some good deals, and my size :-P

At Zara:
-Yellow and white pattern dress. Now this dress had a couple of tears near the zipper and on the back, and the spaghetti strap was too long but I still bought it. All of that is fixed now thanks to my mom. Was a good price too! 19.99!

At Metropark:
-BJ Messenger Bag. I think Allison and I now have the same bag. Hey, my mom offered to get it for me and I agree, its super cuteeee. Now we can be twins! haha..

At Delia's:
-Blue and white striped socks.
-Medium dark length knee length jeans. They're alright, nothing I'm too crazy about. but they were on sale.
-Black Morgan Skinny Jeans. I'm thinking of taking these back and gettting them in Size 0. Size 1/2 feels a bit baggy but they're alright looking.
-Dark Blue wash skinny Jeans. These Jeans look amazing on me, especially when I roll up the bottom of the pant legs.
-Heart, skull, cloud shirt in XS.
-multicolored heart crossection shirt in XS.
-Hangers and wardrobe shirt in XS.

At Macy's:
-Nine West Mary Jane Wingtip 3 1/2" heels. They seem to go well with every dress I have. It gives it the rockabilly type of look. They're so cute with the Dark blue Skinny Jeans from Delia's.
Thursday, August 3rd, 2006
---
11:04 pm
Hahahaha I was watching Project Runway earlier and someone got kicked off the show for using pattern books! It was really funny because he was cheating the whole time. The End.
11:02 pm
Today was all right. I did more shopping. I went to Forever 21 and bought:

-red with white polka dot dress
-blue with white polka dot halter dress
-green and white pattern spaghetti strap dress
-red, white, and blue pattern spaghetti strap dress with thick red trim and blue buttons
-short sleeved cotton jacket in cream
-short sleeved cotton jacket in a glossy black
-short sleeved navy and white striped sweater knit
-cream colored skirt with red and black flower pattern
-thick red belt

I don't know if this wraps it up for shopping since I still need shoes and maybe one pair of jeans. I could use more tops, too. I want to go to Delia's and see what they have since 'tonio says they have cute shit right now.
Wednesday, August 2nd, 2006
---
11:30 pm
I made the beds. I cleaned the Living room. I changed the empty toilet paper rolls and Paper towels. Unloaded the dishwasher. And learned how to use a sowing machine properly. God, I'm going to get this Homestead shit down quick.

I fixed the sailor shorts. They don't have silver buttons anymore but instead gold. They still are pretty awesome, and with the gold buttons it gives it more of a classy look. They maybe a bit too short for school, but nothing's too inappropriate for the first day of school! I put together the cutest outfit: the sailor shorts with the blue cardigan with a lacy top underneath to cover up my midriff. I got this spaghetti strap lacy top at Wal-Mart
(shut-it, I only needed it to cover up my stomach. I would never wear it on its own.)and it needs to be shrunk more, even though its an extra small! I think Wal Mart clothes are made for fat people, most likely. Oh vell, it was a quick fix and added a bit white to neutralize all the blue. Ohhh yes, and I plan to get some frilly girl socks and wear it with some Mary Jane Heels (If I can find some decent looking ones). If could get the Manolo's, I would!

I picked out a pattern from the fabric section that I want to attempt. A dress. The fabric is a bit flimsy, I wish they had some taffeta laying around in there but what do you expect, its only Wal-Mart. The color, though, is beautiful! Its a dark wine red that flashes a bright red when the light shines on it just right, and the lower areas retreat back to a blackish color. The lady in the department said to soak the fabric in salt water overnight and wash it cold, tumble dry and iron it. I guess this is the preshrinking, color bleeding process. Don't want the color to leak when washing the finished garment, that'd be horrible. So might as well get it over with right now. So that's what's up with that right now, its soaking in the salt water in my closet...Overnight.

But before I could start on the dress I made some pajama pants for Dylan as a starter. I got the hang of that sowing machine. It was kinda hard at first and then it got really easy. I go really slow when I'm trying to make a straight line. I don't want to mess up on it. Well, it turned out great. I sowed the majority of the pants and my mom put a string tie on it so the pants will tighten better around the waist. We still have some extras of the train pattern we used on his pants, so I want to try and make a matching shirt for the pants. It'd be so cuteee. I don't think my mom wants to go through with the top part. She said it'll be too hard. But you gotta start getting into the hard stuff if you want to have some real fun. I want do so much right now but its late. I'm in such a creative mood right now.

current mood:
creative
Tuesday, August 1st, 2006
---
11:08 pm
Today I went to Fish Camp. It was really boring. I want to goto sleep the whole time I was there. It was fun for like the first 45 minutes since we put Erin in a purple German dress, and Sarah was in it too! Here is the picture to prove of how happy she was to be in it: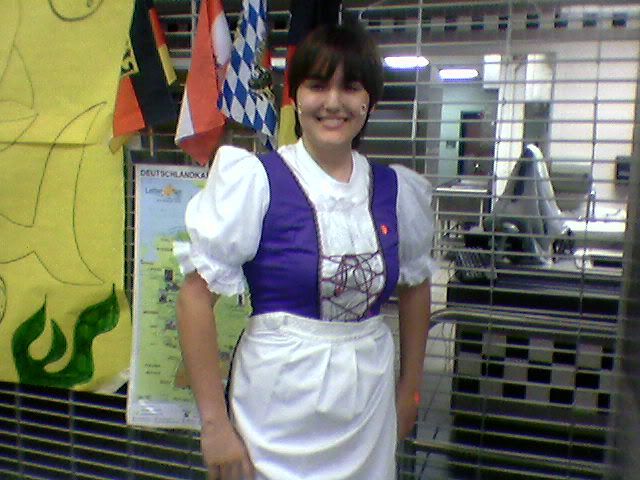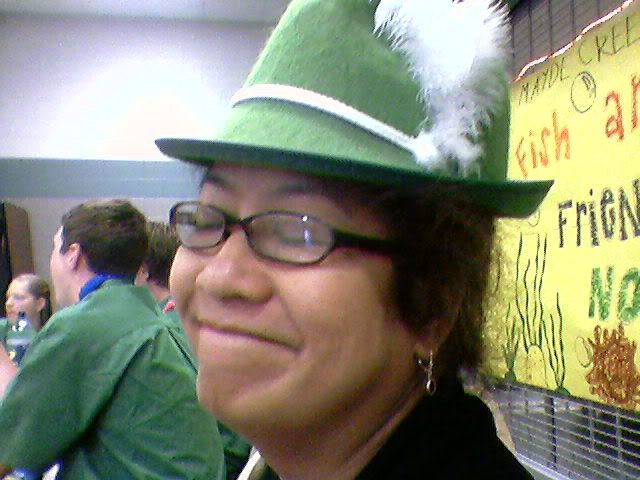 Frau Mutti. HAHAHASAHAHAAHAHAAHAHAHAHAAHAAHAHA!!!!!!!!!!!!!1


I was supposed to work 1-3 but I didn't. I told Sarah to tell the Frau that I had a "dentist appointment", and then me and my mom went shopping. I went to the Galleria and I only got to go into Urban, Foley's and Betsey Johnson. I didn't buy anything, but I in Betsey I saw the über cute bag that was sold out online. It was the one that was black with a rose and had little BJ buttons on it. It was really punky and cute. I went to Buffalo and bought a little bit of things:
-Sailor Shorts. They're really cute. They have these little silver buttons that need a little TLC to them, though. One's missing so I'm going to go a find replacements for all of them.
-Skirt
-3 Spaghetti Straps
-Very cute blue Cardigan with black trim and buttons. The overall light blueness of the sweater gives the trim more of a Navy feel to the eyes. Looks darling with the sailor shorts.
-2 dresses.
At Leopard Lounge:
-FCUK hot pink shirt with puffy sleeves. The sleeves have a little bit of a puff to them, which is the part that really sold me. It fit very well.
Monday, July 31st, 2006
---
6:29 am
What the crap. I'm not even supposed to be awake for another 6 hours. I blame Dylan, his ass woke me up at four in the morning. He woke up, crying, for no apparent reason. I heard a toilet flush...and then it was quiet again for another hour and a half.

Now I'm bored. I want to do something, like make or paint something but I don't have any supplies over here. Either that or go back to sleep; now I can't because my stomach is awake and now I have to feed it. BLAAAAAAH.

Everyone over here likes the Mi Goreng Pedas. James says it needs tofu.
"My main concern is food" -TV.

current mood:
cranky
Sunday, July 30th, 2006
---
7:40 pm
- Project Runway.
Watching Project Runway makes me want to make a dress. I just need one of those awesome plushy manikins they have in my size. Yeah. And an industrial sowing machine.
3:36 pm
I was supposed to go shopping in Austin but we left town too early and it was so horrible. I told them I wanted to go shopping so we drove and then we left town! WHAT THE FUCK!! So I bugged them to drive fourty miles out of the way to goto San Marcos. Those bitches deserved it, that's what they get for not taking me to Austin for my intent. I wanted to goto Austin for shopping and we didn't fucking do that. Now I'm angry.

I went to San Marcos yesterday and I didn't find anything since everything was too big. I think BCBG is too expensive for my mom...So nothing there, too.
I couldn't find Armani Exchange! I was near Salvatore and I still wanted to see what was in Neiman Marcus but Dylan was being an ass so I didn't get to look at very many shops, so I only looked at half of the stores in the Premier outlet place and didn't find anything. I'm going to ask my mom for some major buck$$$ so I could go raid the Galleria and Westhiemer.

Now i'm watching Project Runway and they make all the little outfits in Parsons. Now Parsons is going to get all this publicity from this show, so it'll make it harder to get into!! BLARGGGGGGH.
Monday, July 24th, 2006
---
7:45 pm
On Saturday i went to go see The Lady in the Water, The Devil Wears Prada, and my Super Ex-Girlfriend.

-The Lady in the Water wasn't that great in my opinion. THey had so much stuff you had to keep up with, like the Guild, the Healer...mehhhhh. And the chinese lady was so sterotypical, why does it always have to be the people with the strange accents who have to give away the myth? how come its never some kind of crazy man or wierd hobo?!!
-The Devil Wears Prada was a bit off the plotline, and they made Andy Sachs more submissive and worshipful than she really is. In the book she fucking hates her boss and wants to scream and her because she's getting nageed at everything she tries to do for Miranda. And Miranda isn't very forgiving in the book, she doesn't give Andy a recommendation in the end. Just sends Andy on her way and now she works for Seventeen, unlike the movie where she does get her way in the end and gets to work for the New Yorker. Meh, it was still a good plot-line. So you should go ahead and see it, go and read the book while you're at it too.
-My Super Ex-Girlfriend was cute, yet cheesy. I though it was funny, though, when Uma Thurman wanted to bang the guy in the air. Yep.

And then after that, we went to Hong Kong Food Market and I bought a huge box of Mi Goreng Pedas (Hot Fried Noodles) for $6.99. It was amazing, and so far I've only eaten like 2 packages out of the 30. Yes and I also bought a pack of Almond Crush Pocky, my favorite. God, I always end up talking about food. I need to shut up.





AHHHHHHHHHHH, these stupid dogs keep barking and growling and all they really need to do is Shut the fuck up. why can't they be more like cute little Czarina? Oh right, they're pitbulls and Czarina's just a little chihuahua. Of course there would be a difference. Still, Shut the fuck up. STFU, whateves.
3:45 pm
- I'm binging.
Basically I am going to talk about all the food I ate yesterday in just one sitting at the Taste of Texas.

-Arizona raspberry Iced tea
-about 1 1/3 cups Onion Soup (I ordered Potato Soup but they brought this out instead)
-Lobster tail (the whole thing equaled 30 dollars, hahahaha)
-5 Mushroom Caps filled with Crab Meat inside, topped off with melted Brie. (yummm)

I vaccuumed it up in only one hour. In total I ate about $45 worth of food there. I'm amazing.
It kinda reminds me of that one time I ate a whole Freebirds burrito, or that one time I "almost" finished a whole Chipotle. It may all make me feel bloated and ashamed, but in the end my metabolism kicks all.




I weigh 92.0 lbs.
Thursday, July 20th, 2006
---
2:59 pm
- Furniture
I never showed you guys my furniture my daddy got for me.




This one is a chest from the late 1800's; I'm supposed to put my clothes in it. I dont' have any picture of the other ones...k sorry.
Well anyways, he spent about 4,000 on refurnishing my room. Where he got this money--I know nothing about. But he did a pretty good job on the selection. I guess he'd rather have my room lavishly furnished instead of buying awesome food products. Oh vell.